Full Name: Lee Changsun
Stage Name: Joon
Date of Birth: February 7, 1988
Position: Vocalist, Main Dancer
----------------------------------------------------------------------
When I first started liking MBLAQ, I knew Joon was more of the popular type, and not wanting to have the same bias with everyone, I picked Mir as my bias. Plus he didn't look
that
hot in Stay. I started watching Maknae Rebellion to know the MBLAQ members better and as usual there's the talker-but-not-the-leader G.O. (in SHINee it's Jonghyun) but otherwise I noticed that Mir is very... dorky XD he laughs at things that aren't very funny, or at least not everyone gets. And by watching Maknae Rebellion I actually fell more for Dongho from U-Kiss and Seunghyun from FT Island XD
The MBLAQ members in their earlier years.
From their first full album, BLAQ STYLE.
MV's available for songs Stay and Cry.
Then one day I was watching Oh! My School and suddenly I saw a new, familiar face. I was like "Isn't that.. maybe.. oh wow it is.. hmm" then when they introduced Joon I was like "MBLAQ!!!!!!!!!!!" cuz I was really into Cry at the moment XD then he started dancing for the class "Stay" and from then on I tried to learn the dance XD still a fail btw. that episode, they were talking about family so Joon's mom came. at the moment he seemed so serious, and his face was so straight, I can't help but laugh when I see him trying to control a smile that's coming.
the next episode, he flirted with a noona (as told ofc) and his face is like *straight* but then I can see he was looking right into the noona's eyes.
His deadly stare from Stay MV.
Then I saw he turned BLONDE for their mini album BLAQ STYLE 3D (consists of popular Again and also You & Can't Come Back <-- my current fav MBLAQ song.) and ever since I REALLY wanted to watch an episode with blonde him of Oh! My School.
And today, I did.
Without Hongki (he's officially off, along with Minho :'( so sad.) or Yoseob or any awesome guest stars to distract me, Joon totally killed me with his cuteness. Every once in a while the camera flashes to him his face is just in the most cutest expression ever. And he's really funny too, like how he fights for the microphone during games and he doesn't even know what the answer is. I think blonde really suits him XD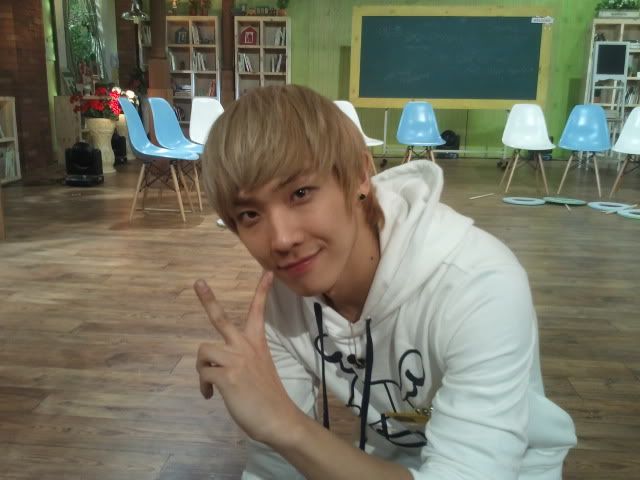 Joon on the set of Oh! My School.
His team won this episode,
although I was hoping they'd lose because I wanted to see him getting make-up-ed XD
From Cry MV.
That victorious 'Y' era.
Lets just let the boy show off a bit -_-"
I think he lost those abs though XD
Like I said. XD
From 'Again' performance.
His charming smile - biggest quality.
He is just so cool XD
-------------------------------------------------------------------------
Don't fret, old bias.
Cute Bang Mir is still cute XD
Out.